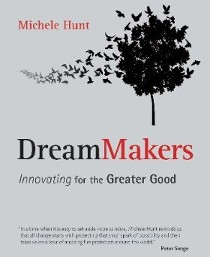 DreamMakers Innovating for the Greater Good
The DreamMakers in this book are redefining success for the 21st century from money and power for the few, to wellbeing and flourishing for all.
I shine a light on the compelling stories of business innovators, social entrepreneurs, community leaders and cross world movements, who believe that people and the planet are sacred, so they lead their businesses and organizations with the greater good in mind. These generous people share the defining moments in their personal journeys, their vision, values and results, and what they are learning along the way. They show us how they are innovating for the greater good and making their personal hopes and dreams come true.
My hope is that these stories will help to unleash the DreamMaker in all of us to pursue a vision of worldwide flourishing.
What people are saying: About Dreammakers
"It is the great irony of our day that, in a world where more and more people know that the future will look very different from the past, the most visible stories of the present seem more and more driven by desperate, fear-driven efforts to return to the past. In a time when it is easy to set aside hope as naïve, Michele Hunt reminds us that all change starts with protecting that small spark of possibility and then takes us on a tour of amazing fire protectors around the world."
- Peter Senge, MIT and Academy for System
Since 1995, Michele has been helping leaders of businesses, nonprofit organizations and communities to realize their vision of success, in alignment with their core values.
She brings an approach and process that enables leaders to engage the people in their organizations and their key stakeholders in making change happen. This approach engenders shared understanding, commitment and shared ownership, resulting in deep, sustainable, positive changes in the culture.
Michele has the experience and passion necessary to help leaders bring about significant positive change.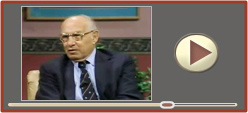 View Michele Hunt interview Peter Drucker on Reinventing Government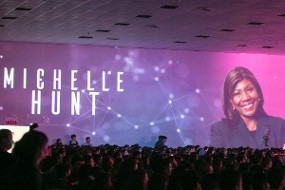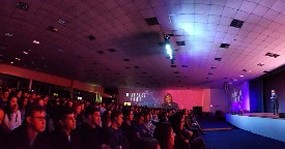 Michele is a keynote speaker at meetings and conferences around the world for businesses, organizations and communities. Her topics include:
The Power of DreamMakers
Innovating for the Greater Good
The Secret to Organizational and Community Transformation
Her presentations are founded on her belief that people have the capacity to create far better futures than we have dared to dream. Michele believes that we can co-create a world where all people and the planet have the opportunity to flourish. She comes to these beliefs through her personal and professional experiences and by researching and writing about people, organizations and communities that transformed their compelling visions into reality, against tremendous obstacles.